WEST TOWN — An Instagram account run by a local artist features paintings of historic buildings and businesses in Chicago, as well as locations in Colorado, Texas and beyond.
Bus Stop Paintings is run by Chicago artist Diego Bleifuss Prados, who began painting watercolors at the start of the pandemic while living in Denver.
The project actually started with photography, said Bleifuss Prados, after being inspired by Twitter posts from lee bey, Deborah Mercier and other tales of little-known buildings in Chicago neighborhoods.
Bleifuss Prados said he will walk around and take pictures of old buildings and storefronts, usually those with historic features and new businesses below, including grocery stores, taquerias and liquor stores .
"Especially in Chicago, there's a type of building, really beautiful, older buildings that have architectural terracotta or really fine brickwork and etching. And then on the first floor there's like, a butcher. Or an auto shop or just a small store that juxtaposes with the big, older building above," Bleifuss Prados said.
While working from home during the pandemic, he began experimenting with drawing and painting buildings. Last year he started publishing his work online under the Bus Stop Paintings account.
He returned to Chicago this spring and many of his recent paintings feature buildings in the greater West Town area, such as Western Wear in Alcala, Ciales Poultry in Bucktown, and the Starsiak Clothing building in the Polish Triangle.
He also painted a taqueria in Pilsen, a grocery store in Humboldt Park, and many scenes in Denver, Texas and even one in Hebron, Palestine.
Bleifuss Prados said he took a few art classes in school but never received any formal training. He hadn't worked much with watercolors until he started what became Bus Stop Paintings in 2020.
"I had all this extra free time so I started painting some of the pictures I was taking around Denver. More than anything, it takes a lot of time and patience to go through the tedious process of drawing it and painting it. redraw it, then paint it," he said.
One of his biggest challenges has been getting the right light for his photos, which serve as a model for each painting. That process has been more difficult in Chicago than in sunny Denver and Texas, he said.
"I noticed buildings and then I often have to come back when the lighting is good to have good lighting, good sunshine and then good shadows too. And that can be quite tricky," he said. "I'm going to take several photos…and recreate them as best I can. »
Many of the oldest buildings represented by Bleifuss Prados are in gentrifying neighborhoods, where long-standing businesses are often at risk of displacement.
He said there was a dedication to historic preservation in his work, with an urge to document a building or store before it was gone or changed forever.
"I think there's an element of trying to chronicle the treasures or gems of the neighborhood, architectural gems that are disappearing. And just a style of building and store that is slowly being replaced, or quickly in some places," he said.
Recently he stopped at a locksmith in Humboldt Park to take a picture after waiting for a sunny day with good light.
Instead, he found the building under construction and the company sign removed.
"It sometimes feels like a race against time trying to get some of the shots before they get demolished or turned into a target or something," he said. "A lot of these buildings are sort of ephemeral."
He has sold a small number of physical prints of his work and hopes to expand his offering when he finds the time.
Until then, he plans to paint more buildings across Chicago, as well as finish some older ones.
"I just keep an eye out whenever I walk around the city, looking for things, buildings, stores or signs that would be interesting or that I find beautiful," he said. "I really appreciate people who love paintings and yes, I'm excited to share more."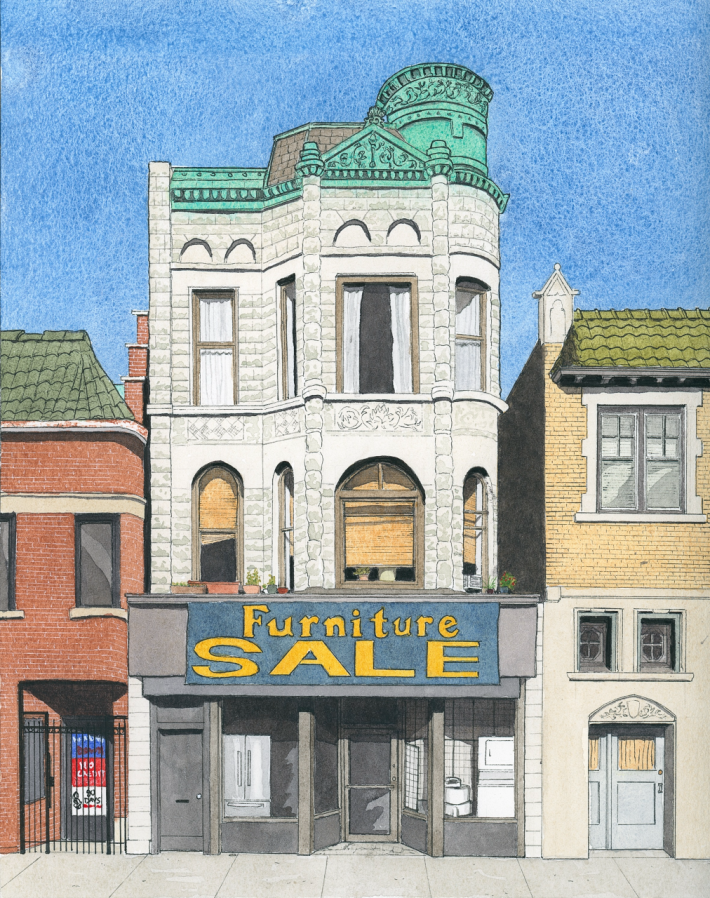 Listen to "It's Alright: A Block Club Chicago Podcast":