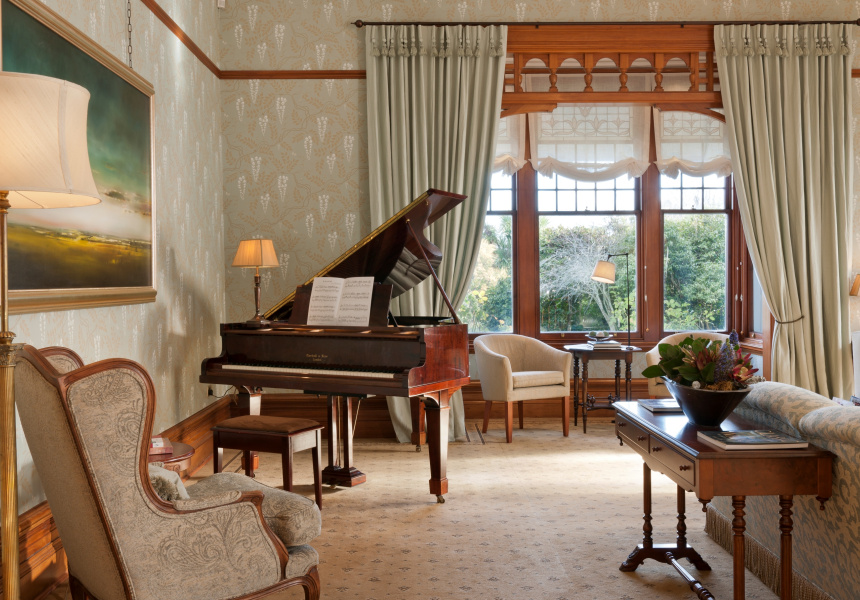 Christchurch, on the east coast of New Zealand's South Island, is known as a city of exploration, as well as a meeting point for regeneration and innovation. Which means that while a stay there is enticing, it can be difficult to settle on an itinerary. (However, with direct flights to Christchurch from Brisbane, Sydney and Melbourne, getting there is easy.)
Whether you're looking for a luxurious stay or something a little more rustic, here are five great options.
Otahuna Lodge
Much like the city of Christchurch itself, Otahuna Lodge at Tai Tapu offers modern luxuries in a traditional New Zealand Aotearoa landscape. Set against the backdrop of an ancient volcano and surrounded by gardens and woodland, the lodge is Aotearoa New Zealand's largest private residence.
Along with all the trappings of premium accommodations and service, dining at Otahuna Lodge is a sought-after experience in itself. Locals and international guests alike are drawn to a tasting menu that changes daily, with produce sourced largely from Otahuna's vegetable garden and orchard. In winter and spring, they host popular gastronomic events, so better plan your trip around that.
Pohue Purepod
An hour's drive from Christchurch, Pōhue Purepod is an intimate Port Levy hotel surrounded by rolling hills and rocky outcrops. A secluded stay with shelter provided by evergreen trees, Pōhue Purepod combines the wild feel of camping with a traditional hotel stay.
To get there, take a scenic drive around the Banks Peninsula, past Charteris Bay and Diamond Harbour, and up the hill above Purau. From there, it's a 25-minute walk to your accommodation along a track that winds through native bush.
Observatory Hotel
Located in the heart of Christchurch, the Observatory Hotel (opening May 2022) sits on the grounds of the Arts Center Te Matatiki Toi Ora, bringing contemporary style to an area steeped in history. Each of the 33 rooms is uniquely decorated with hand-picked handcrafted furnishings. Along with typical luxuries, including a gym and the stylish Bijou Bar, there are in-house galleries, museums, a boutique cinema, retail and wine tastings and long lunches at the cellar door ( be sure to make a reservation to secure your spot).
tree farm
Tree Crop Farm is a lush 20 hectare retreat in Akaroa on the Grehan Valley Creek offering a range of accommodation options, from the spacious veranda cabin and uniquely shaped tree house to the small French studio vintage-inspired and romantic cabin by the river.
Staying here is a bit of a choose-it-yourself adventure. After a lazy morning, collect your own eggs laid by the resident hens for breakfast, before heading out on one of the many walking trails. At the end of the day, slip into the outdoor hot tub under the stars.
The Mayfair
Recently opened, The Mayfair is a luxury hotel located just outside of downtown Christchurch. With a view of the Christchurch Botanic Gardens, the Mayfair's design features earthy tones that contribute to a relaxed and modern environment. The hotel's restaurant, Majestic at Mayfair, serves as both a cafe and a cocktail bar. So you can sit down for breakfast each morning or have an aperitif later. And if your stay falls on a weekend, settle in for a tea party.
This article is produced by Broadsheet in partnership with Christchurch NZ.