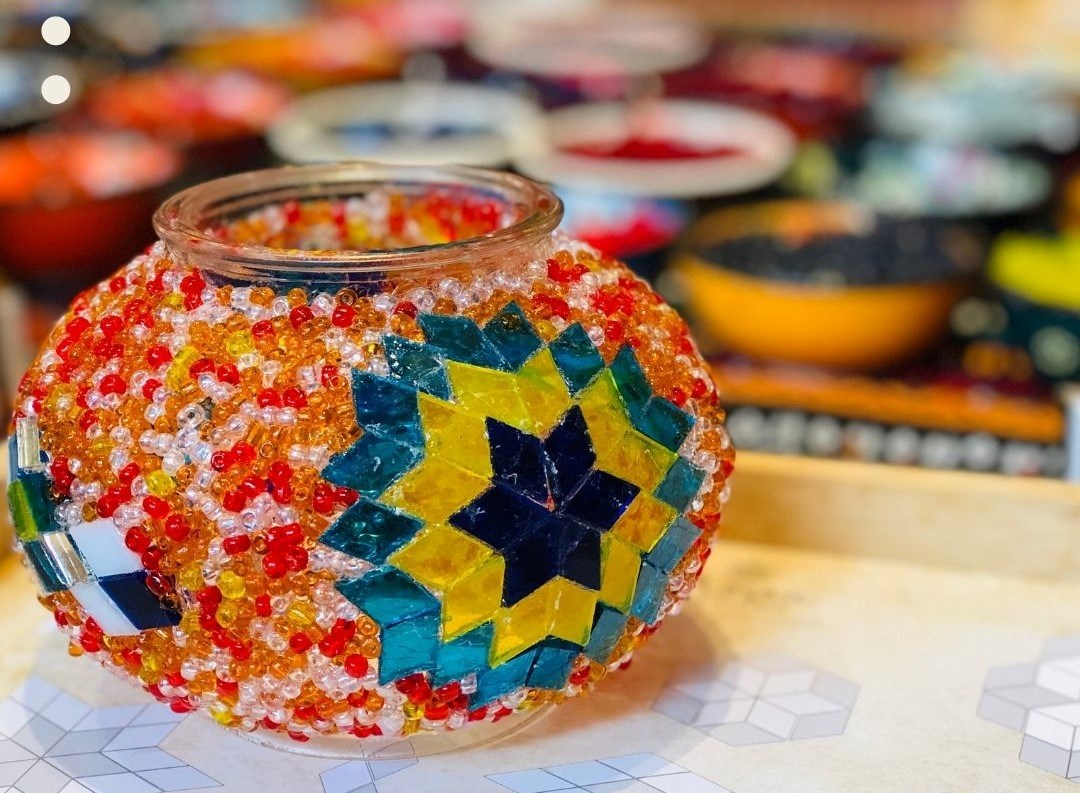 A group of three Turkish friends have created a successful business teaching people how to make mosaic art that they grew up seeing in their homes in Istanbul. Their new studio opened in New West earlier this year.
Adam Ucar, Ekrem Tapan and Halil Gozukara first met while studying in Hong Kong. Ucar was studying law, Tapan, computer science and Gozukara, international relations.
All three, who had grown up in Turkey, had moved to Hong Kong for higher education. Here, as they acclimated to the new culture by learning Mandarin, they also wanted to introduce others to their culture.
To do this, they turned to a simple everyday object they used at home: a mosaic lamp.
"This [the mosaic lamp] is very common for our eyes, in fact. All Turkish children have seen it," said Ucar, who remembers having two dim swan lamps in the bedroom and a bright table lamp in the living room in the house he grew up in.


The three friends decided to hold a small workshop to teach others how to create the mosaic art pattern they were so familiar with.
They never thought of it as a long-term endeavor until the workshop became a success, and someone walked up to them and asked, "Can I buy a lamp?"
That was enough for them to open their first store in Hong Kong. In fact, Ucar, who got a white-collar job after graduation, decided to give it up so he could teach and sell mosaic art.
Now their studio has branches in Hong Kong, Taiwan, the Netherlands and Canada.
Bringing Mosaic Art to the New West
Since opening their store in downtown New Westminster in January 2022, they have already had more than 2,000 lamps made in their workshops.
People from all over the country, sometimes even from the United States, show up. Some companies bring in their employees for team building workshops; many brides-to-be prefer mosaic lamp DIYs as part of their bridal showers, Ucar said.
They didn't expect an overwhelming response.
One Friday night, this reporter went to his studio at 332 Columbia St. to see what the fuss was about.
A flight of dimly lit spiral stairs led to a bright room filled with rows and rows of twinkling mosaic lamps. Heavy chandeliers hung from the ceiling, colorful rugs were laid out on the floors, and slow classical Turkish music played in the background.


"We wanted to create a small space where people can experience Istanbul's rich culture without having to fly all the way here," Ucar said, inviting the reporter to sit at a table on which lay 50 small ceramic bowls from mosaic pieces in different colors. imported from Turkey.
The pieces, smooth to the touch and with blunt corners, were made by a seasoned craftsman, Ucar's mosaic art teacher, who runs a shop in Istanbul's historic Grand Bazaar.
Besides the cut glass pieces and the sparkling beads, there was a bottle of glue (for sticking the mosaic pieces on the lamp), tweezers (for carefully placing the beads) and a sheet with mosaic patterns traditional ones that people could refer to. when designing their lamp.
Even as Ucar, who is an advanced mosaic artist, demonstrated the technique, his friend and co-founder Tapan offered a tray of Turkish tea and sweets – imported from their hometown.
The history of Turkish mosaic art
As this journalist washed down a tasty sesame cookie with a sip of strong black tea, Ucar spoke about the evolution of mosaic art in Turkey. "It happened nearly 6,000 years ago."
Turkish art was influenced by the presence of the Greek-speaking Byzantine or Eastern Roman Empire which ruled between the 4th and 14th centuries – during this period mosaics of Christian religious figures and powerful rulers were popular, such as mentioned on the Khan Academy website.
The rule of the Ottoman Empire began in the 1450s (via National Geographic); and with this shift in power, nature-inspired mosaic designs began to appear in mosques, as mentioned in ceramic artist and educator George Woideck's blog.


According to Ucar, who hesitantly admits to having scraped mosaic pieces off neighbors' walls as a child, the practice of sticking mosaics on walls came from the Greeks; using it on lamps was an idea brought later by the Ottomans.
Although it is an important part of Turkey's art and culture, locals see it as just a functional piece – a source of light when it gets dark. In fact, Ucar's family is surprised that he runs a successful business around them.
"My older brother still can't believe I make them for profit," he said with a laugh.
"He thinks it's just a lamp."
But Ucar, his friends and the nearly 2,500 people who have spent hours learning the art at the studio know it's much more than that.
Mosaic Art Studio at 332 Columbia St. offers workshops all week except Monday and Thursday. A two-hour workshop costs $69.