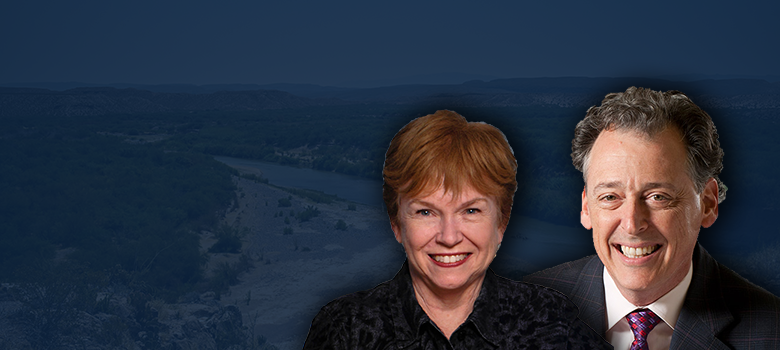 UTSA Today recently spoke with Dupont and Romo about the new book and why it's relevant to people nationwide.
The following interview has been edited for length and clarity.
First of all, can you tell me a bit about the book? What topics does he explore?
TIME: We argue that border areas are much wider than just one side of the border.
The book is an interdisciplinary approach to looking at what's happening in borderlands, and we think that's necessary because you can't understand what's happening from a single disciplinary perspective. There's sociology, anthropology, history, the built environment – which is architecture and other kinds of built icons – and then the politics that affect what happens at the border that helps to explain what is happening on the American and Mexican side.
WD: We have tried to summarize by focusing each contributing author on the same task, regardless of their origin: Talking about the contemporary heritage value of border regions. Except for the final chapters which look to the future, all the work is about contemporary value, seen through the prism of each author's discipline.
You both have such great knowledge in each of your disciplines… how did the idea for this work come about?
WD: We came up with the idea of ​​doing a symposium that would invite scholars from Mexico, as well as the United States, to talk about the Borderlands region and the book came out of that… There's been a lot of scholarship on the subject. Our book looks at heritage to define what we have, what we can do to keep it alive, and why it is valued so we know how to move forward.
TIME: Part of our motivation was also due to the fact that the media is so negative about the border regions. We both saw the rich history, the rich ecological areas, the people who are so warm and welcoming and live like there are no boundaries. We wanted to draw attention to what is in danger if people do not recognize the importance of this cultural heritage.
With all that we see in the news and political climate of the past few years, why is it important to have something like this for someone to read?
WD: Nationally, the border regions of Texas and Mexico are so misunderstood. So, this book is written for a much wider audience to help them understand the value of this place so they can appreciate and respect it.
For someone like me who grew up in Connecticut and previously worked for 11 years in Washington, DC – before working at UTSA – to experience the frontier and the culture there was amazing. I was unprepared for the richness and differences I found there.
TIME: The border regions, which stretch across the official international border, have much more in common with both sides of the international demarcation than perhaps the northern Mexican border regions with the southern part of Mexico or the northeast of the United States with Texas Borderlands. So many people far from our border regions do not understand the true wealth and heritage here, that it affects people far beyond just living in this area of ​​international borders.
Why was it important to have multiple perspectives to tell the story of the border regions?
TIME: You have a university divided into departments and disciplines; academics tend to stick to their discipline. And yet, when we have a complex space like borders, we cannot explain it solely by sociological questions or by the history of the territory or of artistic creation. All of these things happen instantly and over time change in different ways.
I think this can have a big impact on students who should really look at some of these issues across disciplinary boundaries.