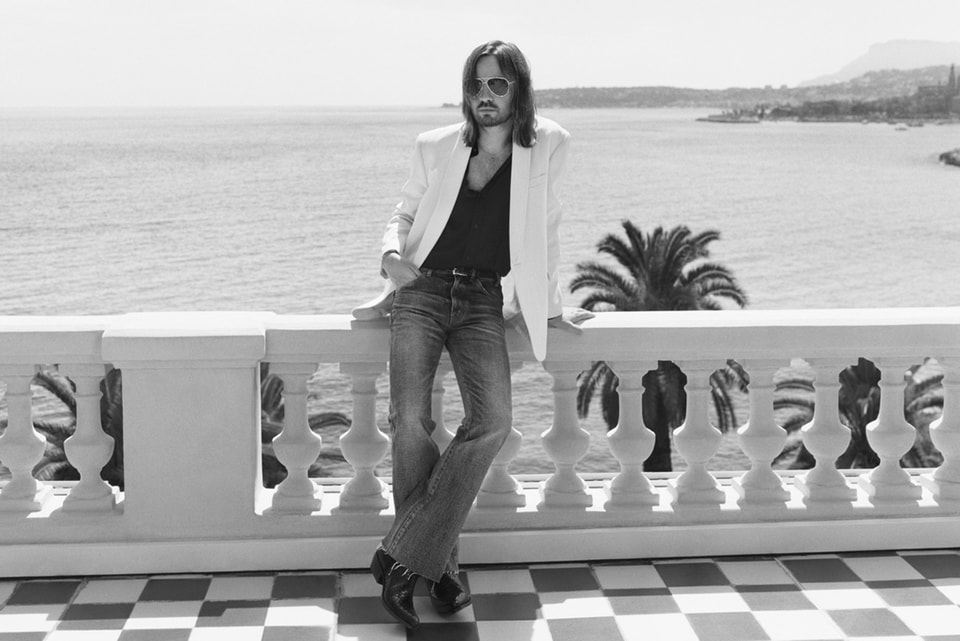 For Kevin Parker – the man behind the musical project Tame Impala – revisiting his second studio album Solitude was, "for lack of a better word, cringe." Following his debut Interior speaker, Parker's ambient and exploratory follow-up LP was released in 2012 to widespread industry acclaim. For all the splash he's made with critics and fans alike, listening to the LP a decade later, the artist can't help but consider what changes he could make to certain songs if he had any. the occasion. Headlining California's Desert Days music festival earlier this month, Parker celebrated the decade of Solitude with a live interpretation of the entire album, where, despite the artistic impulse, he remained faithful to his primordial version.
Between stops on his cross-country tour, Parker teamed up with Celine's creative director, Hedi Slimane, to take part in the fashion photographer's exhibition Portrait of Musician series.
Unveiling the exclusive images, HYPEBEAST caught up with Parker to talk about his highly anticipated collaboration with Slimane and the 10th anniversary of Solitude.
What prompted you to take part in the Portrait of a musician series?
I'm always doing something that I haven't done before. I've never really entered the fashion world before and still don't really consider myself in the fashion world, but he reached out to me and I have a lot of respect for Hedi. He shot me a few years ago.
I know he's always loved me as an artist, so obviously it's like a huge honor. At first, I was like…me? I've always been surprised when people want to take my picture.
Walk me through the process of shooting together.
We both walked in with an open mind. I think the way he works is he kind of feels it in that moment. Neither had been to the place before, which was this old French villa on the water. It was a nice place. And it was fucking hot. It was about 105°F (40°C).
This month marks the 10th anniversary of Solitude, and to celebrate, you recently performed the entire album at Desert Days. What was it like to revisit the album a decade after its creation?
I listen to my albums once in a while, for some reason – because I need to check something out or a song might be used for a commercial or something. It usually takes me back to some kind of memory lane, a wormhole. It's the second of my albums that is 10 years old, so it's more of an emotional experience than I expected.
With setting up a performance, I try to be a bit faithful to the album, which always requires going back and revisiting how I created sounds or lyrics that I didn't. haven't revisited for a long time. Or just [considering] music and the way I make it. Holding things that have been in a box for 10 years is something special. All of these things added together make this a truly contemplative time in my life.
When you go back to an older album, especially with the intention of playing it live, do you feel eager to play it differently this time around? I wonder if it's hard to stay true to the original version of the album or if you feel compelled to change it.
There are so many that I hate to say – but like, for lack of a better word – moments of hindsight. And don't cringe at what I sing. Actually, the lyrics are what I'm most happy about because that was me 10 years ago, you know? All that interested me 10 years ago is what I sing. And when I sing the lyrics, I'm like, I don't even feel like that, I feel like a completely different version of me wrote them. It's like I'm singing someone else's lyrics.
It's more the production background and you know. We're going to play a song and come to a section and I'm like, 'Oh, in this section, it would have been so nice to hear this guitar part on its own instead of stuffing it with sounds and drum sounds and everything deform. There were definitely a lot of those moments, but at the end of the day, I have to accept that that's how the album was and that's how people know it.
Compared to your first LP Interior speaker, Solitude sees you experiment more with different synths and samples. Along with the evolution of your musical style, how was your approach to making an album different the second time around?
With Solitude, I believed in myself more than ever. I dedicated myself to setting up my own studio in my house. Before, I just recorded in my room. I realized this was going to be my life. It sounds silly, but until then, I didn't think my music deserved its own recording studio. I completely leaned into it and it became my world.
A room in my house has been transformed into a studio. It's still where I spend most of my life, with the exception of touring. I also found Ableton, which I still use today, as a way to make music on tour. It completely changed the way I record music, so it blew everything up too.