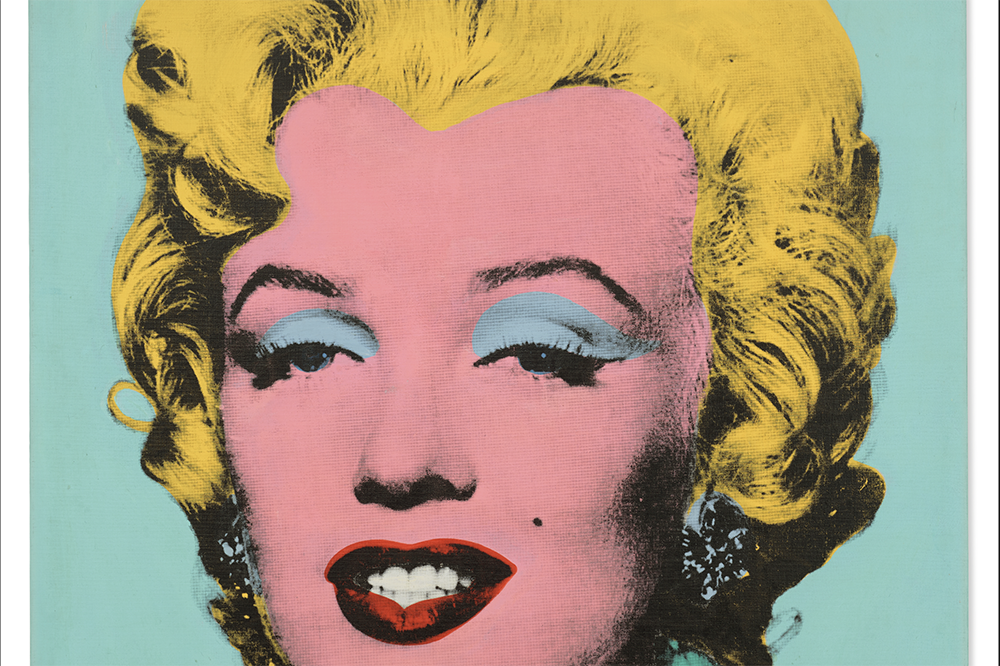 AAdmission to the Andy Warhol Museum on Pittsburgh's North Side is just $20, but one of the legendary pop artist's paintings just fetched $195 million – the highest price for a work in history. 20th Century American Art Ever Sold at Auction, According to Fine Art Auctioneer Christie's.
Christie's announced in late March that it would be offering Warhol's Shot Sage Blue Marilyn to kick off its Marquee Week of sales at a charity auction. The 1964 serigraph of Marilyn Monroe is a definitive work in Warhol's oeuvre, and Christie's called it "one of the rarest and most transcendent images in existence".
It was bought by an unknown buyer in less than four minutes of bidding. The impressive price eclipsed the previous $110.5million auction for a Basquiat skull painting at Sotheby's in 2017, as well as Warhol's auction for a car crash painting which sold out $105.4 million in 2013.
"The most important 20th century painting to come to auction in a generation, Andy Warhol's Marilyn is the absolute pinnacle of American pop and the promise of the American dream encapsulating both optimism, fragility, fame and 'iconography," said Alex Rotter, president of Christie's. of works from the 20th and 21st centuries, said in a statement.
He added that it transcends the genre of portraiture in America and stands alongside other famous works, such as Botticelli's Birth of Venus, Leonardo da Vinci's Mona Lisa and Picasso's Les Demoiselles d'Avignon.
"Warhol's Marilyn is categorically one of the greatest paintings of all time and a unique opportunity to publicly present this masterpiece at auction," he said.
The work came up for auction at Christie's on behalf of Zurich's Thomas and Doris Ammann Foundation, which works to improve the lives of children around the world by building support systems and providing health care and educational programs. Christie's said 100% of proceeds from Monday's sale of 36 items will go to charity, marking the highest-grossing charity auction since Peggy and David Rockerfeller's collection in 2018. (The collection's total of 1 500 objects comprising the collection grossed over $835 million.)
The buyer will have a say in choosing the charity to which 20% of Marilyn's proceeds will be allocated, Christie's announced.
Georg Frei, chairman of the board of trustees of the Thomas and Doris Ammann Foundation, said in a statement that Warhol's rendering of Monroe is now much more famous than the photograph on which it was based – still an advertisement for the film" Niagara" from 1953 by Henry Hathaway.
"[The painting] testifies to its intact visual power in the new millennium. The spectacular portrait isolates the person and the star: Marilyn the woman is gone; the terrible circumstances of his life and death are forgotten," he said. "Only the enigmatic smile remains that connects her to another mysterious smile of a distinguished lady, the Mona Lisa."
Warhol, who was born in Pittsburgh and died in New York in 1987, began creating serigraphs of Monroe after her death in 1962. He created several renditions of her face, always in bright colors consistent with pop art, and usually with his features somewhat askew. In 1964 he developed a more refined technique that took a great deal of time and effort, contrary to the mass production he was known for, and created a limited number of portraits of Monroe. According to Christie's, the technique was so difficult and time-consuming that Warhol would never go back to it again.
The work has been exhibited around the world in renowned institutions, including the Guggenheim Museum in New York, the Center Georges Pompidou in Paris, the Tate Modern in London, the Centro de Arte Reina Sofía in Madrid, the Royal Academy of Arts in London and more.