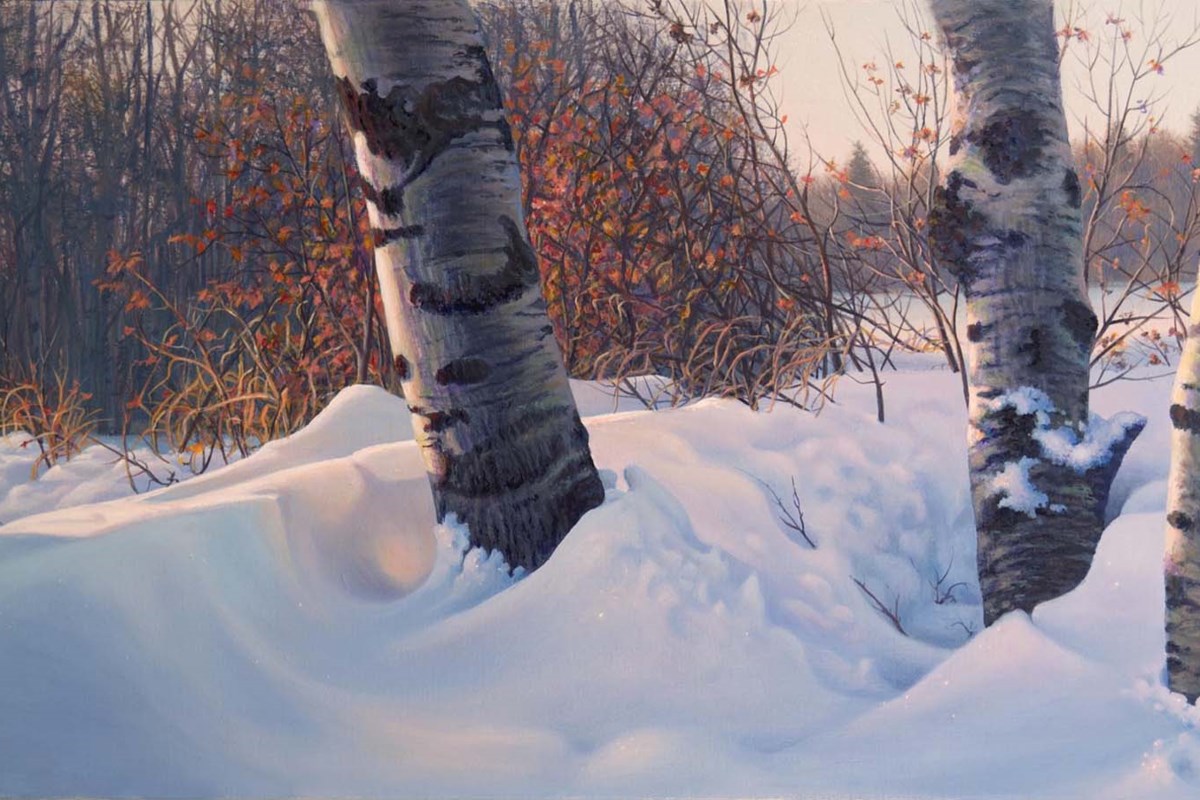 VASA
Draw: a sort of fragmentary group show presents works by 10 artists who are members of VASA. Until Saturday November 27.
25 avenue Sir Winston Churchill 780-460-5990 & vasa-art.com
Saint-Albert Art Gallery
We are medicine by Lana Whiskeyjack is the new show in the main exhibition space. The multidisciplinary artist and scholar from the Saddle Lake Cree Nation creates deeply thoughtful works imbued with emotional and spiritual significance. "As the title of the exhibition suggests, his work is an act of recognition and gratitude towards ancestral medicine, restoring balance and nêhiyaw perspective," read the gallery's web page dedicated to the 'exposure.
"A traditional concept that has been shared with me throughout my life is that we are born with the medicine we need to restore balance within ourselves. Every creation reminds me that I was born with the medicine to help me, "Whiskeyjack reportedly said.
The current series presents a deeply personal interpretation of the nêhiyaw teachings of the thirteen sacred moons in the annual nêhiyaw calendar.
An artists' conference is scheduled from 1 p.m. to 2 p.m. on Saturday, December 11, and virtual tours are scheduled for noon on Friday, November 26 and Tuesday, December 14. In-person exhibition tours will take place at noon both. Tuesday December 7 and Friday December 17. Participation in all events is free. Pre-register by visiting the gallery website to register via the Eventbrite link. Until Saturday January 29, 2022.
In good company is the new exhibition in the vault and staircase spaces of the gallery. The gallery is hosting the first-ever exhibition in association with the Eldon + Anne Foote Edmonton Visual Arts Prize, marking the award's 10th anniversary by bringing together the three most recent winners – Lauren Crazybull, aAron Munson and Gillian Willans – with all of the artists from the 2021 price short list, including Emmanuel Osahor; creative duo Sharon Rose Kootenay and Jason Symington; and this year's winner, Preston Pavlis.
"In good company is conceived as a gathering point, bringing together seven unique artists from all disciplines who are connected by this unique shared experience. Described as humiliating and surprising, each has been honored to be recognized by Edmonton's vibrant and hard-working arts community, "reads the gallery's webpage on the exhibit.
The first virtual roundtable at 1 p.m. on January 15, 2022 will feature emerging artists. The second showcases ever-changing artist careers over time and takes place on Thursday, January 20, 2022 at 7 p.m. A virtual tour with Commissioner Emily Baker will take place at noon on Tuesday January 11, 2022. An in-person visit with Commissioner Emily Baker will take place on Thursday January 6, 2022 at noon. Participation in all events is free. Pre-register by visiting the gallery website to register via the Eventbrite link. A closing reception will take place from 2 pm to 4 pm on January 29, 2022. Until Saturday February 5, 2022.
19, rue Perron, 780-460-4310; artgalleryofstalbert.ca.
Federation of Canadian Artists
The Fall Competition for the Edmonton Chapter of the Federation of Canadian Artists with Jury is now live. Participating artists include Victoria Armstrong, Laurena Beirnes, Arlene Bowles, Joyce Boyer, Doris Charest, Holly Cheverie, Erinn Evans, Carmen Gonzalez, Holle Hahn, Shirley Kinneberg, Margaret Klappstein, Renee Lippa, Francis Marte, Karen McCallum, Barbara Regamey McDonald, Cindy McLaren, Rick Rogers, Judy Schafers, Terrie Jane Shaw, Anita Skubleny, Lori Sokoluk, Tammy Taylor, Jori Warren, Mary Whale and Cam Wilson.
Judy Schafers won first place for her painting Ladies waiting, while Jori Warren took second place for Life is a bowl, and Francis Marte finished third for Almost fall in Gastown. Honorable mentions were awarded to Tammy Taylor (Survey the sea), Rick Rogers (Consonance and dissonance) and Joyce Boyer (Cool morning walk).
Until Sunday December 5.
exhibitions.fcaedmonton.ca/galerie
Events
Color scheme is a monthly rotating online art gallery featuring selected works by students of Bellerose, Paul Kane and St. Albert Catholic High Schools. Each month of the school year, several pieces from each school will be showcased on The Gazetteat www.stalberttoday.ca the last Saturday of the month. The next exhibit is expected to be released on Saturday, November 27.