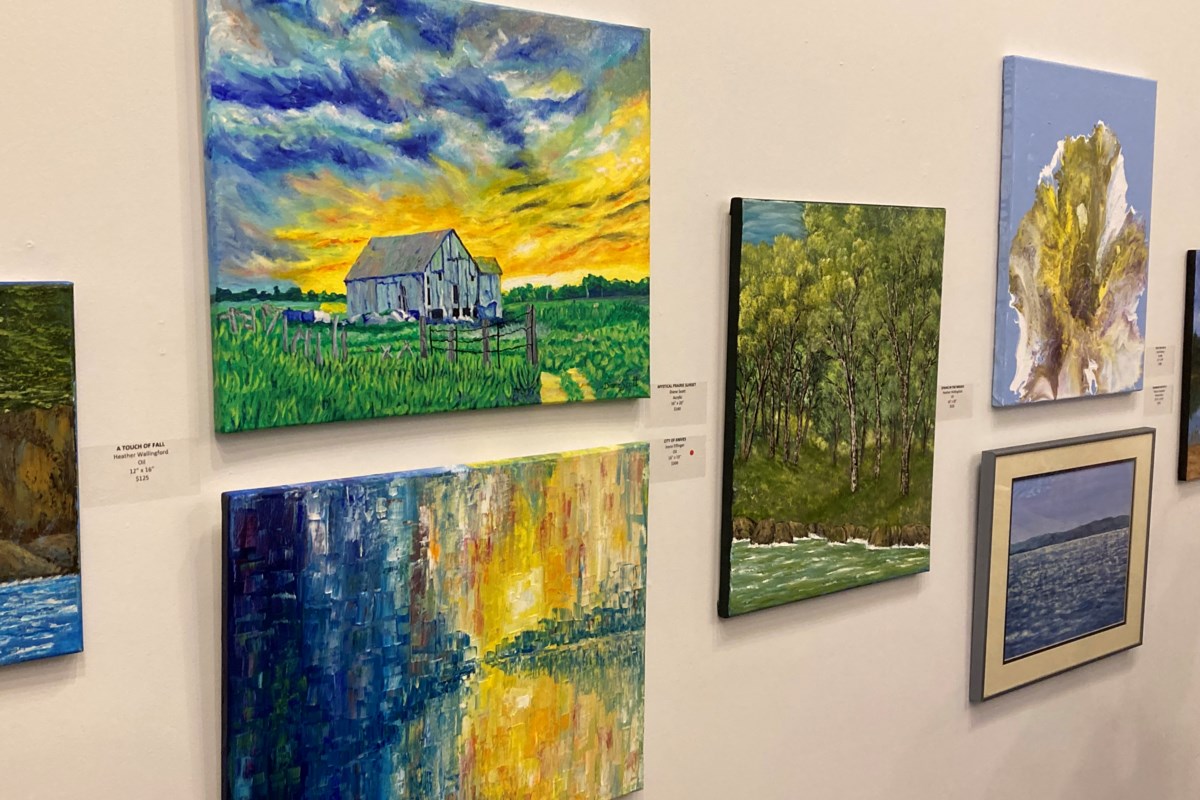 "You get this mix of different themes and levels of expertise and it comes together really well"
Calling all art lovers interested in supporting local artists!
The annual Petit Noel exhibition and sale is currently underway at the Alex Dufresne gallery in Callander.
"It's a mixture of tableware, crafts, pottery, photography, painting, etc. It's basically a mix of anything," curator Natasha Wiatr explained.
"We usually have between 30 and 50 people participating. This year we had 43 at last count, so that's a fantastic number, many are returning artists, but many are also new, which is always nice to see.
Wiatr calls it a unique show.
"It's a bit of a snapshot of Northern Ontario artwork. You get framed and unframed, and you get acrylic, watercolor, oil, photography, ceramic, and stained glass. You just get a real mix of everything, and on different levels. You get beginners and hobbyists, but also full-time professional painters. So you get this mix of different themes and levels of expertise and it comes together really well.
Artists generally come from the North Bay, Callander, Sudbury, South River and Powassan areas.
"Anyone can participate and that's the beauty of this show and why it's so unique and fun because we don't know what's going to show up. We don't know who's going to show up, but it always comes together so wonderfully and everything complements each other."
The opening of the fair gave artists and art lovers the opportunity to reconnect and discuss their work.
"They haven't seen each other in person for so long, so being able to talk about art and watch art is a wonderful thing," Wiatr added.
Joanna Perry, submitted two paintings; A Winter's Night and Nature Gnome.
"My friend told me all about it, so I said I was going to give it a try. I've chickened out in the past, but this year I decided to give it a shot," Perry laughed.
"I am surprised by the number of people here and there are so many great exhibits."
A long-time participant, Marc Buchanan enjoys working with acrylics and watercolours.
"I think it's a wonderful opportunity to see the high quality of work from our local artists. I find it really exciting and it seems to get better every year," shared Buchanan who loves being able to exhibit his work again.
"It feels good to be outside and meet people and other artists."
It was Janyce Mantha's first time visiting Petit Noel.
"I find it really interesting, I didn't know there were so many talented artists in the area. The pictures are amazing, in fact, it's all pretty amazing to see. First I came to support my friend who is an artist, but I'm impressed with everything I've seen.
Artwork is available for immediate purchase through the gallery.
"We ask that if possible, for the paintings, they remain on the wall until the end of the show or towards the end of the show. But if you're coming from out of town and need to take it that day, that's fine," Wiatr explained.
The show runs until December 17 at the Alex Dufresne Art Gallery located in the same building as the Callander Bay Heritage Museum on Lansdowne Street in Callander.