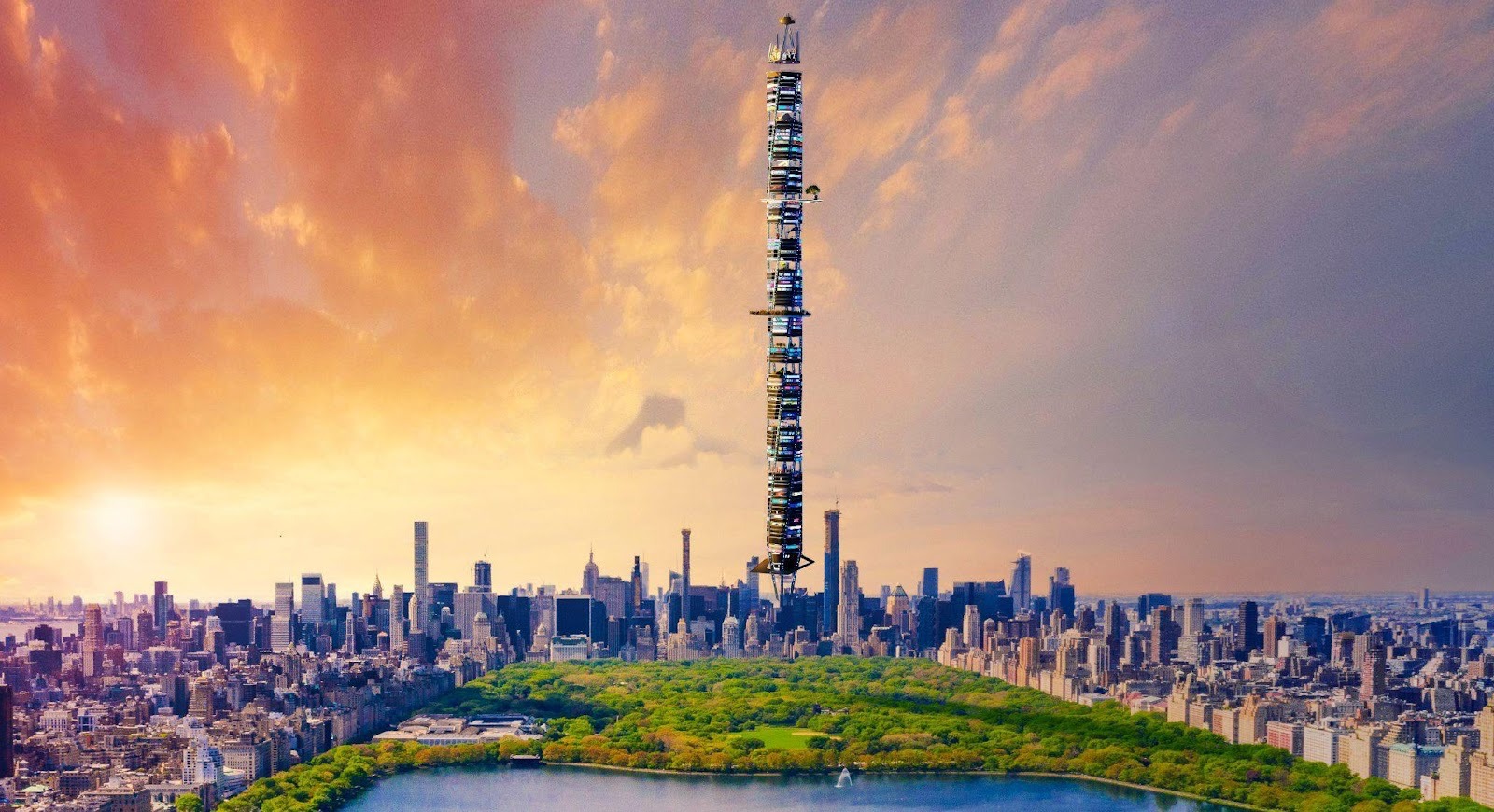 GENEVA, Switzerland, July 22, 2022, Mat3 today announced the first details of the Metaverse VERTICAL, a 115-level pentagon-shaped skyscraper celebrating digital art, life and culture, hovering 555 feet above Umpire Rock in Central Park, New York. VERTIKAL is expected to be the tallest metaverse in the world, and incidentally, the tallest building in the world.
VERTIKAL is an exclusive and limited offering, Metaverse with private spaces and community levels for top notch NFT collectors, NFT and digital artists and metaverse organizations dedicated to digital art and culture. Apes, Punks, Zukis, Birds and other NFT blue chip holders are now joining VERTIKAL to take their collections to a new dimension.
"NFT collections can currently be accessed through tiny crypto wallets, online marketplaces, or complicated-to-setup 3D spaces with disappointing community elements," said co-founder JP Dumas. "The growing need for a metaverse with appropriate experiential potential is underpinned by collectors' lack of commitment to their acquisitions. NFTs and digital art should be shared, curated, adapted and enjoyed. We bring the curatorial thrill of the IRL art world to the metaverse.
VERTIKAL is specifically designed to present and organize digital art and NFTs in both private spaces and common levels that are essential for community engagement. With over 50% of the space dedicated to the community, residents and visitors will enjoy a host of multifunctional public spaces, including the VERTIKAL dome, observatory, party gardens, ice rink and even a beach with an overflow waterfall. These will host an immersive program of events, public art commissions, artist residencies, cocktail parties and galas. Real-world and metaverse personalities will be placed at the center of the curation process, with an early lineup to be announced ahead of launch.
Having a community-first approach is at the heart of VERTIKAL. The project is built as a community of communities with each level managed as a Decentralized Autonomous Organization (DAO). Residents of each level will be free to vote on the development of their central square with their own artistic and event programming.
"The current state of the metaverse often means running past empty lots, getting trapped in poorly designed buildings, and walking through aimless spaces. It's irritating and doesn't do justice to digital art and NFTs," said co-founder Louis Paschoud. "VERTIKAL's intuitive, community-based design cultivates a sense of place and draws inspiration from master craftsmen, legendary architects, renowned urban planners and visionary art centers around the world."
New York's selection is a tribute to the city's thriving art world as well as its NFT scene. Central Park was specially selected for its proximity to Museum Mile, one of the greatest cultural concentrations in the Western Hemisphere which is home to the Guggenheim, The Met, MoMA, and more.
The launch of VERTIKAL is scheduled for 2022 and the celebration will be marked by opening events, concerts and live events around the world.
Whitelisted Private Spaces are available in the first round of presales from June 2022 with five configurations to choose from, which include Sky Mansions, Tycoon Pads, Penthouses, Lofts, and Hives that vary in size, layout, amenities, elevation, and their view of the Manhattan skyline.
Watch the video on www.vertikal.art
ABOUT VERTIKAL
VERTIKAL is a purpose-built, community-driven metaverse with 115 floors celebrating digital art, NFTs, life and culture – floating 555 feet above Umpire Rock in Central Park, New York.
For more information, visit vertikal.art or our Medium page medium.com/@vertikal
VERTIKAL is the world's highest metaverse celebrating digital art, life and culture and its artists. VERTIKAL floats 555 feet above New York's Central Park, stands 1.6 miles tall and offers the best views in the city
Exclusive metaverse spaces where blue chip NFT collectors get units to showcase their personal collections
Composed of spaces of different sizes helping NFT and digital art artists to curate and display their art in galleries
The public levels include the museums, the ice rink, the beach with an infinity waterfall, the forests are at the heart of the project's many communities and include places to meet, share and exchange on PFP and other NFT projects , life, art and culture
VERTIKAL offers tools that help artists and collectors create, trade and display NFTs for free and develops a program of exhibitions, exhibitions and digital art competitions as well as a million art fund dollars for the purchase of NFT and digital art
Press inquiries:
John Dumas
[email protected]
Geneva, Switzerland
Unit Reservation Requests:
Europe, Middle East and Africa: [email protected]
Americas: [email protected]
Asia Pacific: [email protected]
Media Contact
Organization: Vertical
Contact person: JP Dumas
E-mail: Send an email
Town: GENEVA
Country: Swiss
Website: https://www.vertikal.art
The post office NFT blue chip holders join VERTIKAL – the new Metaverse dedicated to NFT art and culture appeared first on King Newswire.
The information on this page is provided by an independent third party content provider. Binary News Network and this site make no warranties or representations in this regard. If you are affiliated with this page and would like it removed, please contact [email protected]