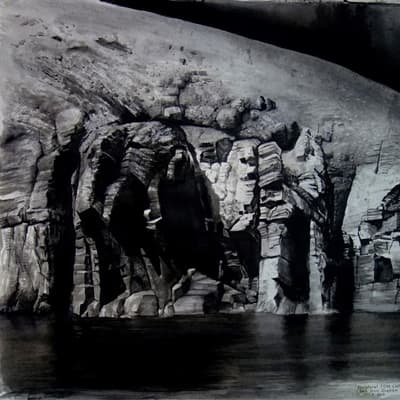 The president of the Tynwald thanked a world famous sculptor, draftsman and engraver for his gift of a drawing to the Tynwald.
Laurence Skelly MLC praised 'Sculptural Isle of Man Cliffs', a drawing of the cliffs near Spanish Head, which was donated by Professor Michael Sandle RA.
Mr Skelly was speaking at a presentation held at the Legislative Building where he welcomed Professor Sandle and guests including members of Tynwald and representatives from the Isle of Man Post, Culture Vannin , the Isle of Man Arts Council and the Royal National Lifeboat Institution. .
The sculptural cliffs of the Isle of Man are the second of Professor Sandle's works to be displayed in the Legislative Buildings, the first being his donation of a model – the proposal for a figure by Godred Crovan, which will be located in Cooil y Ree in St John's but not yet to be realized.
Professor Sandle moved to the island with his family when he was six years old and is an alumnus of the Douglas School of Art.
Mr Skelly said Prof Sandle 'always remembered his roots in the Isle of Man' and he urged those unfamiliar with his work to view the Lifeboat Men memorial in Douglas Sea Gardens, which referred to the island's enduring maritime heritage and the "hidden". gem' which was the Viking sculpture outside the Erin Arts Center in Port Erin.
Mr Skelly also thanked Professor Sandle not only for donating such an "exceptional work of art which will be treasured by Tynwald", but also "for inspiring this generation of artists and future generations". .
Professor Sandle said he was delighted to donate his drawing to Tynwald and he spoke fondly of his childhood years on the island, a place he and his family quickly considered a "paradise". after leaving England.
Isle of Man Post Office Chairman Chris Thomas MHK presented Professor Sandle with a set of framed stamps featuring six of his major public works, including the Lifeboat Men memorial and the Viking sculpture, in recognition of his generosity lasting towards Tynwald. and the people of the Isle of Man.
On receiving the set of stamps, Professor Sandle thanked everyone involved in producing the collection with which he said he was "over the moon".