WEST RIDGE – A former public telephone booth in West Ridge offers a portal to Earth's past and future – or at least a local artist's depiction.
The abandoned payphone on Western Avenue just south of Pratt Boulevard now houses an elaborate sci-fi themed art installation by West Ridge artist Luna Rail. Rail asked to be identified by his artist pseudonym to protect his career as a social worker.
The phone has long been retired, with only two metal boxes that previously contained it still standing. In one of these boxes is the artwork, an elaborate 19th-century theater display with gilt ornaments and red velvet curtains.
On stage in this theater a day in the life of the future Earth unfolds, where aliens sit around a campfire. The scene is idyllic – save for the remnants of human life, including abandoned Old Style cans.
The scene depicts multiple layers showing remains of humans and other creatures. Other objects buried below the surface are items left behind by humans, including a shopping cart. There's also an X-Wing fighter jet from Star Wars, hinting at a long-lost society.
"I was thinking, 'Humans, how long are we going to stay? Are we about to wipe out?'" Luna Rail said. "I like the idea of ​​'Maybe something will survive us. .'"
The art exhibition is named after its coordinates: 42.004587, -87.690123. It features an inscription with an enigmatic quote attributed to St. Luna, another alias of the artist, saying, "Someday the words of a beloved old song will say, 'Parlin's space is vast and the time too….' "
The payphone is across from Warren Park, a few blocks from the Luna Rail West Ridge house. One day, the artist noticed the abandoned payphone infrastructure.
Luna Rail thought there might be a better use and designed the facility. The piece was installed in June.
"There are so few left," Luna Rail said. " I've watched it [and thought]'It's perfect.'"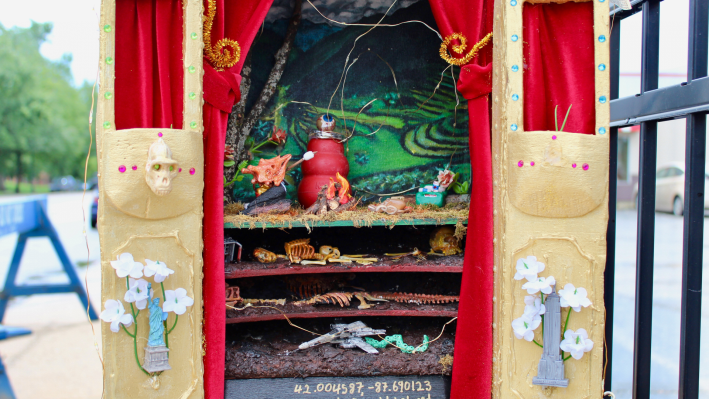 Luna Rail visits the exhibition almost every day. He spends the night to switch on the lights connected to the installation. During the day, it solves problems caused by bad weather or vandalism.
The piece draws inspiration from many of Luna Rail's early artistic passions.
One of Luna Rail's first forays into art was painting the backdrop for high school stage productions. The work is reminiscent of that era, with the art set in a theater against a hand-drawn backdrop.
The installation is unique for Luna Rail, said the artist. But similar installations may be popping up around the city thanks to Agitator Gallery, the Logan Square-based artist collective he co-founded.
Agitator has called for artists to submit works for a "guerrilla/insurgent art installation". The idea is to place thought-provoking pieces in places where audiences wouldn't normally see such works, Luna Rail said.
"I've always loved underground art, art that pushes boundaries to be socially relevant," he said. "As wacky as it is, it has generated a lot of interest. I had some interesting conversations" about the play.
The West Ridge art facility has fans nearby: local Jiffy Lube employees.
The coin is on the sidewalk near the Jiffy Lube at the corner of Western Avenue and Pratt Boulevard. Workers saw Luna Rail tending to its piece and asked questions about the installation, the artist said.
Now, Jiffy Lube employees look after the art exhibit when it needs maintenance.
"It's life ahead of us," said Ivan, director at Jiffy Lube. "It's a very good design. You don't see this too often.
The installation will not last the winter. Luna Rail plans to dismantle the exhibit this fall and give it to Ivan, who said he would be honored to have it.
"It's his," Luna said. "We talked about putting it inside the Jiffy Lube, which I love."
Listen to "It's Alright: A Block Club Chicago Podcast":