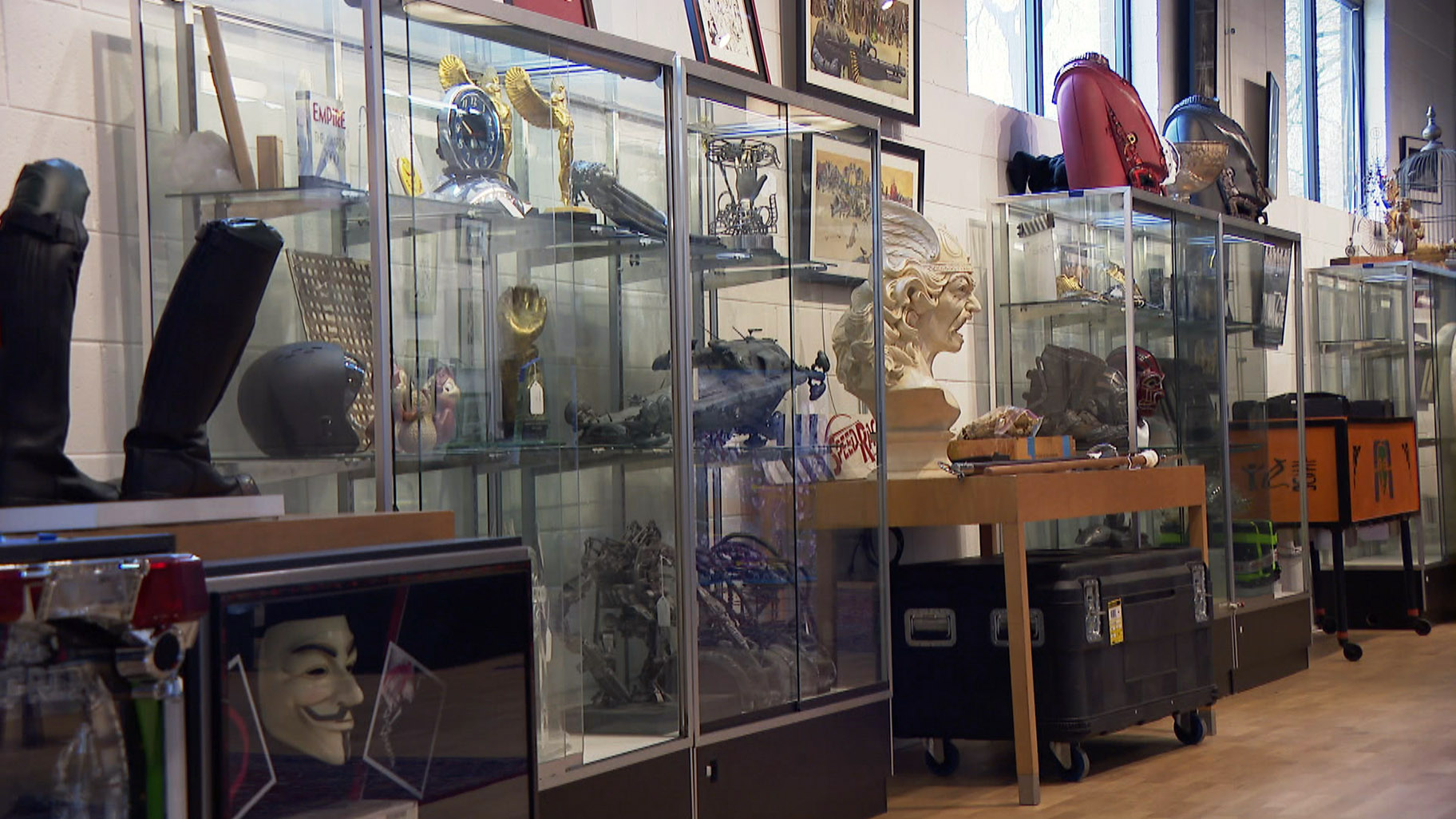 The Hollywood Story is coming to auction in Chicago this month
All four Matrix films set new standards for visionary filmmaking, and now artifacts from them and other films are in the running.
The filmmakers – the Wachowskis – grew up in the Beverly neighborhood and still call Chicago home. WTTW News spoke with artist and filmmaker Lilly Wachowski about an auction with a cause.
TRANSCRIPTION
Marc Vitali: The truth is that the famous red and blue pills are not auctioned, but there are props and models from all four Matrix films.
Plus, elements from other Wachowski films, including "V for Vendetta."
And "Cloud Atlas," the 2012 film starring Tom Hanks and Halle Berry.
And why not bid on Channing Tatum's boots in "Jupiter Ascending?"
There's also an abundance of stuff the Wachowskis have accumulated in nearly 30 years of making movies.
Lilly Wachowskiartist, filmmaker:
And it's even just personal stuff, stuff we've collected, gifts given to us by fans and celebrities. So yeah, we're just cleaning up, the Wachowskis are.
Vitali: They kept some items.
Wachowski: I still have a few things that are pretty cool. I have one of the red chairs from the movie Matrix. Lana has one, I have one.
Vitali: Lana is Lilly's sister. Once known as the Wachowski brothers, they each came out as a transgender woman.
Their movie memorabilia auction will benefit pop star Ariana Grande's recently launched Protect and Defend Trans Youth Fund.
Wachowski: This is a fund that benefits several organizations, especially in states that target trans people in their legislatures. So you have a bunch of anti-trans bills being introduced or in some cases passed in states that basically force trans people out of public space. And their ultimate goal is to erase trans people.
We shouldn't have to do this. We shouldn't have to fundraise to protect trans people. It's just crazy how trans people are used as this political cudgel, this wedge, to divide our electorate.
The problem is that trans people don't leave. We have always been here and we always will be. We know we're going to stand up for each other, it's just a matter of whether our allies and cis people are going to stand up for us too.
Vitali: The Wachowskis work with a Chicago auction house specializing in magic. This time they're all about movie magic, including mockups – scale models used by the special effects team.
Gabe Fajuri, Potters and Potters Auctions:
Behind you is one of the Sentinels of the Matrix. These are to show the people who are making the film what we want to see on screen, so these are essential things to create that magic of the film.
It is therefore one of the most interesting objects of the auction. It's the flashgun from The Matrix and ah it's used in one of the key scenes, and it's what they call the 'hero prop', so it's the one you see up close in the movie and who is wielded by one of the movie's main characters to kill one of the others.
Vitali: And although they have made films all over the world, the Wachowskis have remained devoted to their hometown.
Wachowski: I always called Chicago home, I always had a residence here, even when I was away for a long time for work. There's something liberating about the feeling that I didn't have to move to Los Angeles to be successful in this business. There was something that was really grounded and isolating about this whole space between LA and Chicago and I think that allowed me and my sister, I don't know, to make better art.
Vitali: From now on, pieces of their creativity will be available to fans.
Wachowski: It makes me feel good. I like the idea that me and Lana are able to push these atoms out into the world for someone else to cherish because they really don't do much to us other than, you know, feed our egos which we can do without. So the fact that these pieces can find a new home where someone is going to really love them and have a connection to a piece of art that they grew up on is… I think I'm all for it.
More on this story: The auction is titled "Enter the Matrix: The Wachowski Collection". It is scheduled for Thursday, May 12 at 10 a.m.
Note: This story will be updated with a video.
---