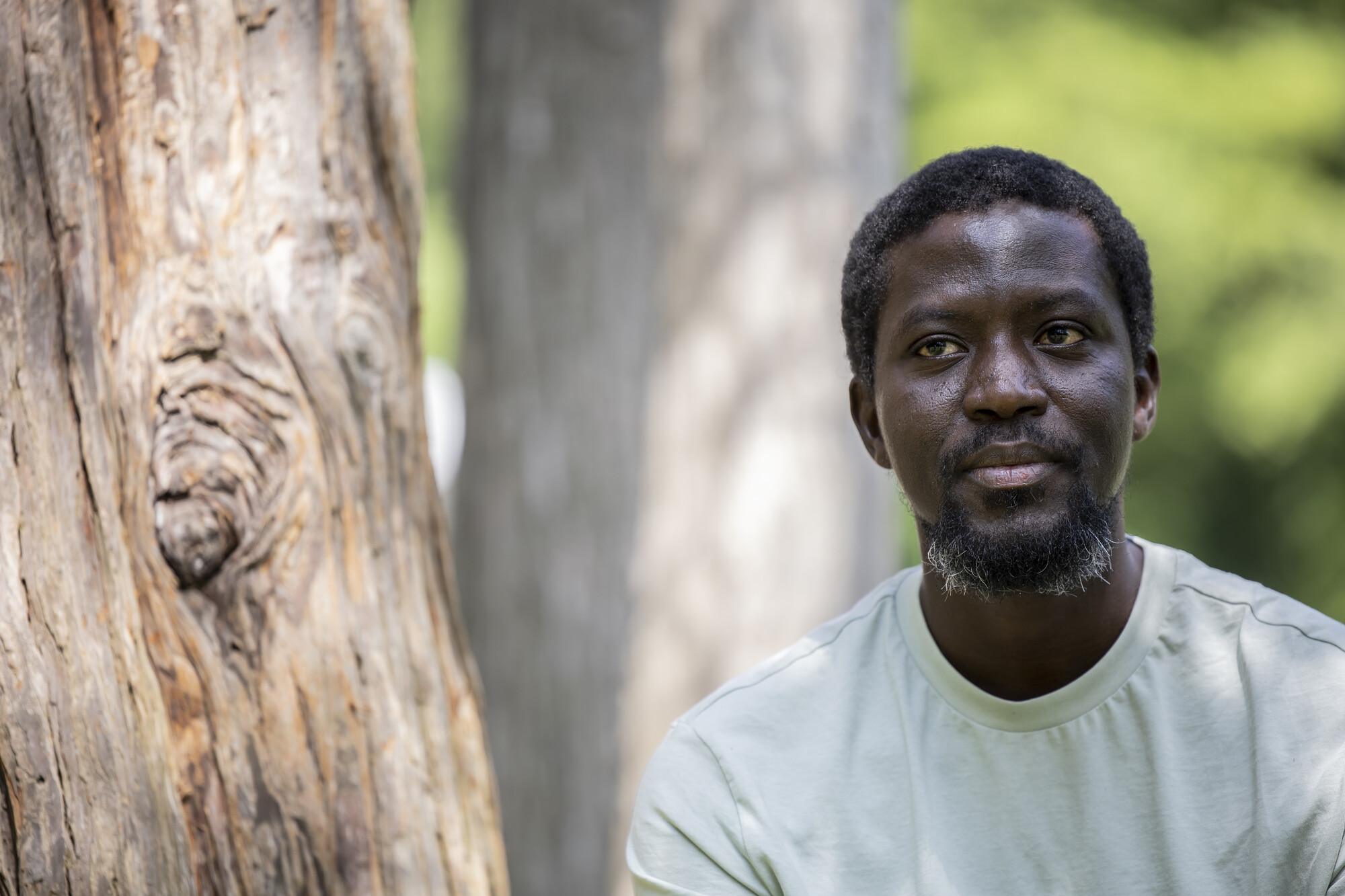 MGLC, The International Center for Graphic Arts, is pleased to announce the appointment of a renowned artist Ibrahim Mahama as artistic director of 35th Ljubljana Biennial of Graphic Arts (2023).
The recipient of numerous accolades, including the 2020 Prince Claus Award for Outstanding Achievement in Culture and Development, Mahama lives and works in the cities of Accra, Kumasi and Tamale in northern Ghana, where he was born.
Mahama's artistic practice has been celebrated worldwide in international exhibitions such as NIRIN22nd Biennale of Sydney (2020); tomorrow there will be more of us, Stellenbosch Triennial (2020); Ghana Inaugural Pavilion, 58th Venice Biennale, Venice (2019); Handout 14, Athens and Kassel (2017); and All the futures of the world56th Venice Biennale, Venice (2015).
As Azu Nwagbogu observed in a recent edition of art magazine, Mahama's cultural practice includes founding, funding, building, and nurturing "museums of the future: living, metabolic, agile, and experimental" (May 18, 2022).
Among the notable institutions that Mahama has founded are the Savannah Center for Contemporary Art (SCCA Tamale), an artist-run cultural repository, exhibition-research center and artist residency. Red Clay in nearby Janna Kpeŋŋ is a sprawling studio complex where Mahama has converted old planes into classrooms for children. Nkrumah Volin is a renovated silo in Tamale.
In announcing Mahama's appointment, Nevenka Šivavec, Artistic Director and CEO of MGLC, highlighted the important links between Ghana and the former Yugoslavia from the 1950s to 1966, when Ghana's first president, Kwame Nkrumah, was overthrown. by a military coup. Particularly significant was the shared role of Ghana and Yugoslavia as founding members of the Non-Aligned Movement (NAM) with Egypt, India and Indonesia in 1961.
Šivavec noted that Mahama had a long-standing interest in post-independence infrastructure in Ghana, buildings that were an expression of Nkrumah's commitment to making Ghana self-sufficient, but would then be abandoned. The impact of architects from the former Yugoslavia on institutional buildings in Ghana, such as the Kwame Nkrumah University of Science and Technology in Kumasi, was particularly significant during this period. This coincided with the founding of the Ljubljana Biennale in 1955, in the midst of the Cold War, and its desire to transcend national and ideological boundaries.
For Ibrahim Mahama, taking on the role of artistic director of the Ljubljana Biennale represents both a challenge and an opportunity. Not only to explore complex moments of exchange and aspiration, but also to reconnect lost moments, or voids, that have arisen in the shared history of Ghana and the former Yugoslavia over time. "I'm looking forward," he remarked, "to re-establishing some of these connections within the framework of the 35th Ljubljana Biennale.
35th Ljubljana Biennial (2023)
The Ljubljana Biennial of Graphic Arts is today a dynamic and constantly evolving platform for artistic creation and critical analysis of societal events. It is characterized by the democratization of art and culture and, at the same time, by elusive and intertwined forms of knowledge, experience and practice.
The 35th edition of the Ljubljana Biennale, under the artistic direction of Ibrahim Mahama, will be created in cooperation with a number of international partners (to be announced) and national partners, including the Cukrarna Gallery, a sugar refinery from 1828 recently renovated which has served as a venue for exhibiting and performing contemporary art since September 2021.