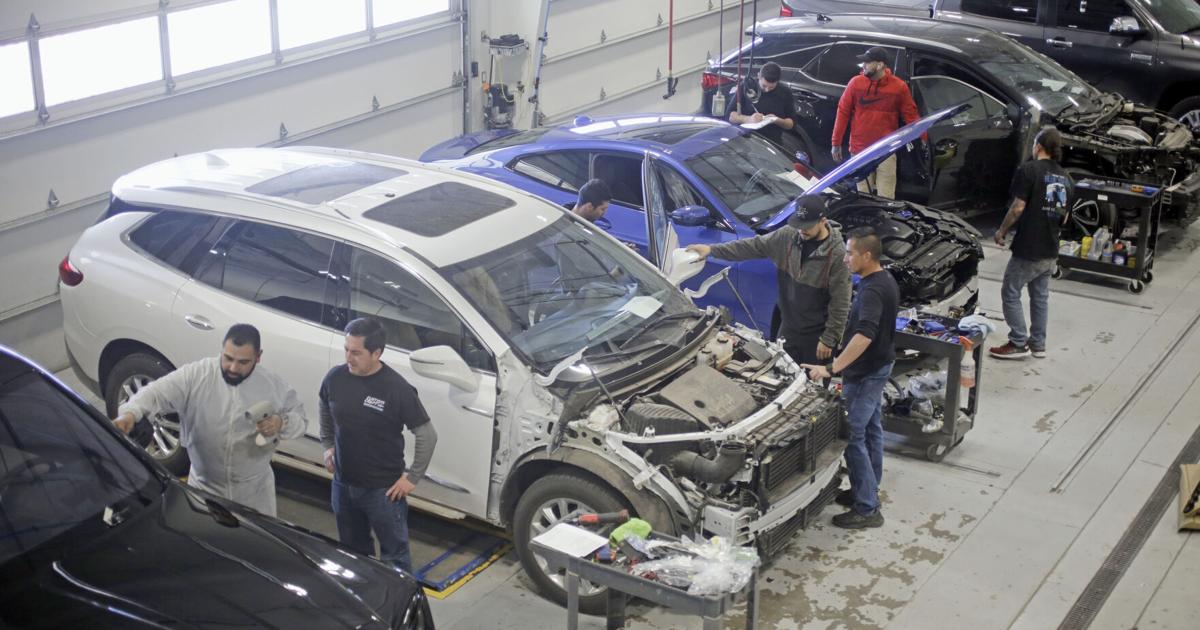 As much as Custom Craft Auto Collision changes over the next month, the same Gallegos family tradition that ran northern New Mexico's largest body shop for more than 30 years will remain.
Custom Craft Auto Collision's name, which has been on the Santa Fe landscape since 1989, will change in mid-April when the Gallegos brothers, Robert and Andrew, and their families complete the sale of their sprawling auto body shop to Crash champions in full growth. Collision repair.
Just three years ago, Crash Champions was largely focused on its home state of Illinois and surrounding states. Since 2020 – coinciding with the coronavirus pandemic – Crash Champions has expanded to 19 states with 180 locations, almost all acquisitions.
Custom Craft may change for Crash Champions, but the Gallegos family isn't going anywhere.
"It's still a family business," said Andrew Gallegos.
"Nothing changes," said Robert Gallegos. "None of the faces change."
Robert and Andrew are the owners. Robert Gallegos started Custom Craft when he was 19 in 1989, mainly to give himself quality paint jobs for his race car. Younger brother Andrew Gallegos worked for Robert from the start and became part owner in 1996.
Their mother, Lilly Salazar, has worked for them as an accountant for 16 years. Robert's wife, Mary, has been handling human resources, payroll, and everything necessary from the start, and their daughters, Alyssa and Calista, are estimators. All stay on board, though Alyssa and Calista both see opportunities for advancement with Crash Champions.
Ownership headaches disappear for Robert and Andrew with Crash Champions on board, giving them the opportunity to get back into motor racing and devote more attention to their Custom Craft Performance & Styling, their body shop "high-end hot-rod" alongside which they continue to own.
"We have eight people in the front office," said Robert Gallegos. "Before, it was two."
Over the decades, Custom Craft operated in five locations across the city until the brothers realized their longtime dream four years ago with their $5 million, 17,000 square foot collision center and 44 bays on NM 14 between Rancho Viejo Boulevard and Santa Fe Brewing Co.
It took about a decade for the dream to become structural.
"We sold the family farm," said Andrew Gallegos.
The word got around and Custom Craft became attractive in the auto collision world.
"We've been approached a number of times since we built this," Andrew Gallegos said of other body chains interested in acquiring Custom Craft.
Crash Champions approached the brothers in October. They saw the potential with Crash Champions.
"They go after A or A-plus stores," Robert Gallegos said.
"When we were planning to build this, we traveled across the country and looked at stores," said Andrew Gallegos. "The stores we visited, [Crash Champions] acquired half of these.
Custom Craft is a certified body shop for Honda, Volvo, Subaru, Mercedes Benz, Jaguar and Land Rover. They are investing $22,000 in special tools to become Tesla certified, which should happen next month.
"Investment in this business will never stop," said Robert Gallegos.
The Gallegos brothers have borne all the financial burden to keep the store at the cutting edge of technology.
"That's where their resources come in," said Andrew Gallegos.
The volume of work has increased by 25% since the Gallegos brothers opened their sixth store. They have
30 employees (including family).
"Right now we're booked for May," said Andrew Gallegos. "We have 300 repairs planned and pending."
Crash Champions also brings new HR benefits to the family business, such as 401(k) retirement, sick leave, life insurance, vision and dental benefits. Robert Gallegos' daughters, Alyssa Branch, 28, and Calista Gallegos, 22, see potential with the bigger company.
"I think about the growth opportunity," Alyssa said. "They have so many locations and opportunities to grow in the business."
Calista Gallegos noticed a lot of women in leadership positions at Crash Champions.
"They really empower women to do better," she said. "There is so much growth and knowledge that I can acquire."