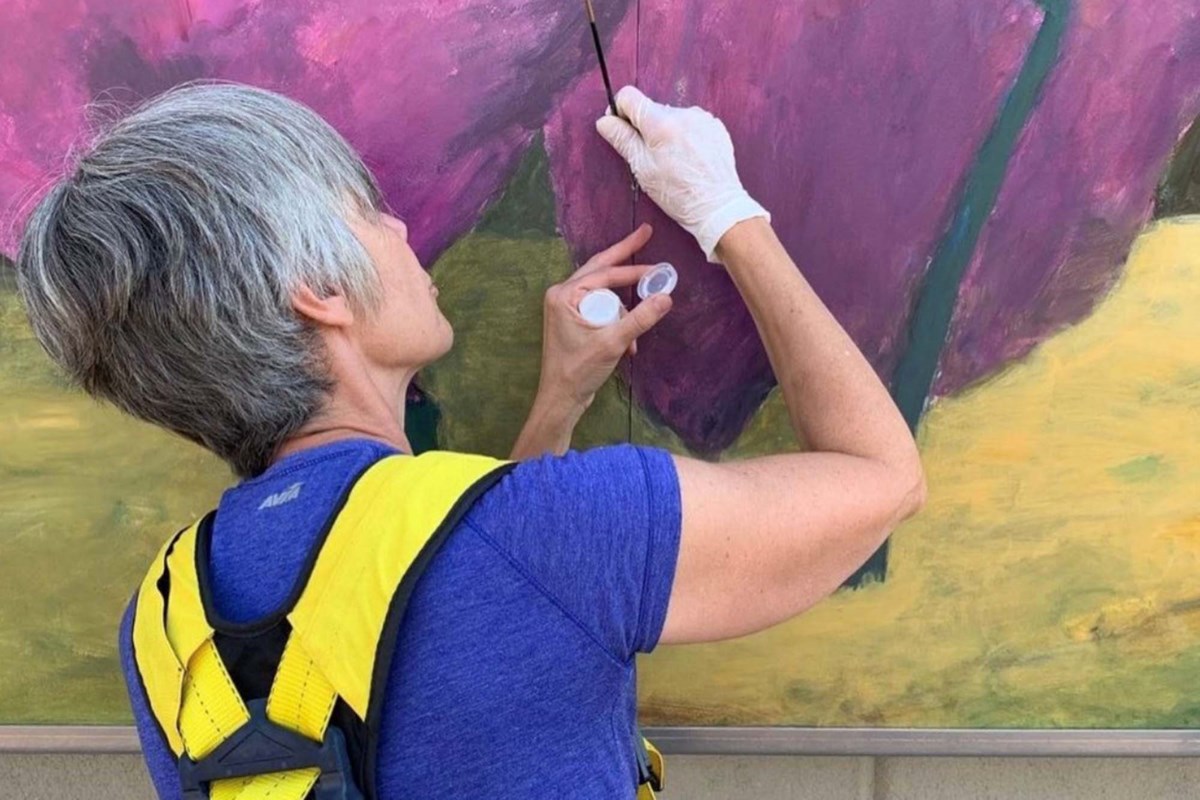 The walls of two fire stations, Place Beaudry and the City's Espace des arts will soon feature multiple pieces from the City's permanent art collection, some of which have rarely been exhibited until now.
In order to promote visual culture in Saint-Albert, a few public facilities will host certain works of art from the city's permanent art collection.
The walls of two fire stations as well as Place Beaudry, where the Family and Community Support Services are located, will soon be covered with approximately 25 works of art thanks to the City's artistic placement program.
Organized by collection manager Dani Rice and public art associate Dana Murray, the city's art placement program aims to ensure public facilities have a comforting and lively atmosphere.
"We place artwork from this permanent collection in city-owned facilities and public offices. The reason we're doing this is to make the collection accessible, so people can see it," Rice explained in an interview. The city's permanent collection comprises around 300 pieces in total, including paintings, drawings, photographs and ceramics.
"We want to make sure we promote visual culture – we think that's very important – especially with visual arts in St. Albert."
Many factors go into deciding which works of art are suitable for certain locations, Rice said. "It's not random, there's a whole process attached to it."
"We are currently working with fire stations number one and three; they're very happy to put artwork in their spaces," Rice said. "They requested artwork depicting scenes from St. Albert because they want to create a comforting atmosphere that reflects the community they serve.
Rice said there are about 10 paintings that match the needs of the two fire stations, and the firefighters will decide which ones to put on the walls.
"For Beaudry Place, it's kind of similar to fire stations — they're looking for colorful, more positive works," Rice said, adding, "some that might have a bit more of a community base."
"For example, I think there's a series of photographs by Jill Watamaniuk that depict different events and people in the community, so we're going to frame them and integrate them as a series."
A third project, in development since August, will feature two sets of art from the city's collection that have never been exhibited before at the City Arts Space in Campbell Park, Rice said.
The City Arts Space is a rehearsal and performing arts space used by the St. Albert Children's Theatre.
"One is a collection of prints, drawings and paintings from a Japanese exchange that happened in the 1990s," Rice said. "We're uncovering information about it, which has been really interesting."
"We're going to hang them as this huge series of children's art right next to a smaller body of work that we have which is actually St. Albert children from 1995 – a series of paintings from of two schools.
The Gazette was unable to obtain additional information on this exchange with Japan by the press deadline.
Heritage Museum archivist Vino Vipulanantharajah said in an email that in October 1990 officials from the Hokkaido region of Japan visited St. Albert as part of an exchange program.
"I don't know if anything art-related grew out of that, but I guess it might be possible," Vipulanantharajah said.
"We're really looking forward to having these two big screens in this area, and they'll be floor-to-ceiling for little kids to see, big kids to see, with some didactic information about this exchange for people know where it's coming from," Rice said.
"The quality of work is great."