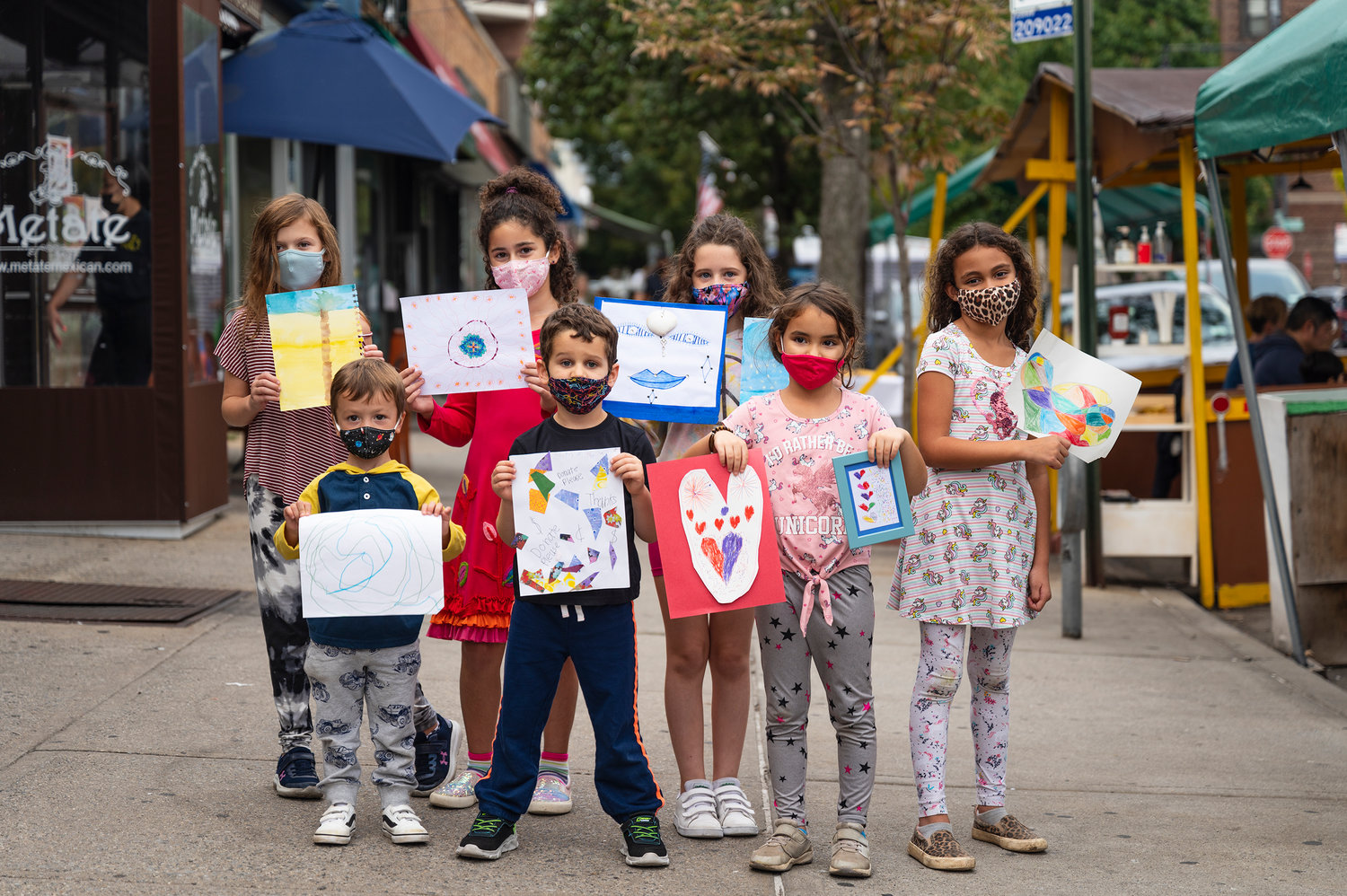 By ETHAN STARK-MILLER
The past 19 months of intermittent and virtual school closures have made the coronavirus pandemic a particularly difficult time for children, limiting their in-person interactions.
But Mino Lora is trying to fill that void locally – and help a neighbor along the way – with a community art sale this weekend.
"Especially during this time when children have been so affected by COVID, or this year," Lora said. "And seeing how, both as an educator and as a mother, coming back to social interactions and social places is a lot for children. So, find ways for young people to work with each other, even if it's remote. And also, to know that as a young person you can still make a change.
Besides being a good activity for kids tired by the pandemic, the executive director of the nonprofit theater and former city council candidate says the aim of the art sale is to raise money for a little girl. 4 years old in his building that fights against cancer. Kids will fundraise with their art on Sunday, October 17 from 2 p.m. to 4 p.m. in front of 3503 Johnson Ave., Starbucks.
The girl, whose parents wished to remain anonymous, is a good friend of Lora's 8-year-old daughter, Emma Lucía. Wanting to help her friend through a difficult time, Emma Lucía came up with the idea of ​​doing something that would raise funds for Memorial Sloan Kettering Children's Cancer Center, the hospital where her friend is receiving treatment.
"I decided that I could raise money and give it to her," said Emma Lucía, "so that they could have more activities for the kids while they are doing chemo."
Lora took the idea from there, using her community organizing skills to develop her daughter's concept into a larger project. Lora reached out to other parents, easily attracting over half a dozen other parents to join her.
But Lora didn't stop there. She then amplified the event on her social media feeds to attract even more kids from Harlem and Washington Heights, two neighborhoods where Lora worked as an arts educator. She's even setting up an online page to accept donations from families who can't make it to Sunday's event.
"I asked the mothers and parents in the building and in the community, and it started to grow," Lora said. "Then it became a matter of art, precisely because our friend likes to do art. And one of the things that has been helpful at Memorial Sloan Kettering is that they do art projects with children in treatment. So, arts and crafts are one of her favorite activities that nurses bring to her while she spends the day there.
And it turns out that Lora's family is also very artistic. Emma Lucía loves to paint, Lora said, but she also made drawings and even a collage with seashells that she collected in Lora's home country, the Dominican Republic.
Annabella Sykes and her younger sister Maya will bring their own artistic vision to the sale with a series of paintings and drawings depicting hearts.
"I think for them the feeling wanted to show that they cared," said Cynthia Carrion, the mother of the young girls.
"And the symbol for that for them was hearts."
In order to raise $ 300, Emma Lucía evaluated the suggested donations for her work between $ 5 and $ 20. Simpler works like watercolor paintings are at the lower end of the scale, while intricate pieces that use more materials are more expensive.
"She said to me, 'This one uses multimedia, so this one is more expensive,'" Lora said. "She always comes up to me and says, 'What do you think of the price?' And I'm like, 'You know that's suggested at the end.' But she has a little dollar sign with a number on the back of each one. So people can get an idea of ​​what they think it is worth.
One of the challenges Lora and some of the other families faced was having to teach their children about a deadly disease like cancer at such an early age. Speaking to her children, Lora made sure to explain how treatments like chemotherapy, radiation therapy, and surgery work, as well as their effects on people, like hair loss and a compound immune system.
"I never thought I would have this conversation so young," Lora said. "But I believe in always telling children the truth."
In the era of the coronavirus pandemic, Carrion says she has already had many conversations with her children about the disease. So cancer has just become another disease to be explained.
"I think it was just this other way we had to approach what it means to be healthy, and how sometimes our bodies aren't," Carrion said.
"And all the doctors and hospitals that are there to help people get better. So I think we approached it from that lens.
At a time when children can be overwhelmed by all the issues stemming from the pandemic locally and across the country, Lora believes this event gives them an easy way to make positive change.
"It's just like a nice way to say that our kids can do so much," said Lora. "And create spaces for them to do it. And to listen. And use their skills to help others, and help each other.