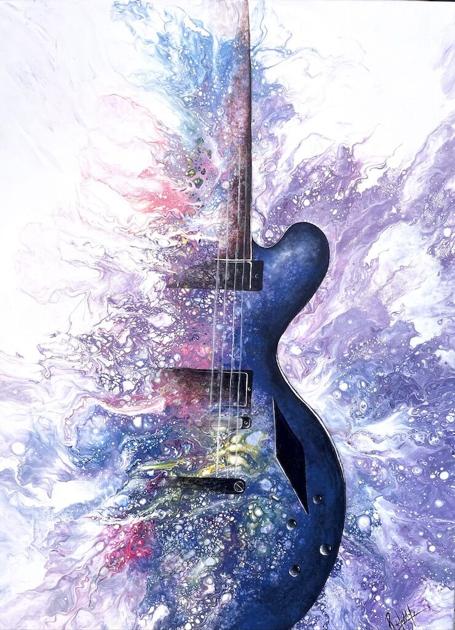 [ad_1]
Before we dive into another rant about the life and times of an anxious events coordinator, I want to tell you about some of the artists in attendance at the First Saturday Arts Market this Saturday.
It's the start of the holiday shopping season in the art world, which will last until Christmas. It's seven weekends of markets, art tours and festivals that allow shoppers to meet creatives and shop for their creations, with no malls, long queues or shipping container delays. Isn't that grandiose?
Saturday is a mix of past and future as returning artists meet the "first timers". Jeff Woodruff, an Austin silversmith and jeweler, is likely linked to painter Dean Snider for arriving at the market in year two, 2005. Rebekah Molander, whom I spoke about here in July, will be showing her art outside for the first time, I think. .
Robin Whalan is also joining the market for the first time, although he is not new to the market scene now. Whalan is a self-taught visual artist, working in ink and printmaking. Whalan, like many artists today, rediscovered his passion for creation in 2020. His skill level and creativity definitely belong to an artistic atmosphere. I'm excited for her to come.
I gleaned the following statement from Whalan's artist biography.
"Native of Houston and passionate about historic buildings with a background in interior design, she enjoys implementing local architecture, specializing in Art Deco. Her work is an emotional roller coaster of heartbreak, love, disaster and humor; "Relatable" and "honest" being the words most commonly used by viewers to describe his plays. "
In the meantime, back to chaos and debauchery.
As I take responsibility, the amazing things I find myself doing never stop. If you are considering coordinating events as a career, be prepared for the adventure of dirty, broken fingernails, aching muscles, and safety glasses. It's true, safety first, even when managing a small art market!
While cutting tree branches that hampered artists' ability to settle in the coveted shadows of Houston and wearing a pair of fancy goggles, I realized I had a "toolbox." Very unusual.
I'm willing to bet that every event coordinator has a toolkit of supplies ready for any situation that could rival the best-prepared prepper waiting for a natural disaster or disaster. If the "you know what" hits the fan, head to a festival or wedding site and look for the coordinator.
Some of the things I never thought I'd lug around included kitty litter, oil absorber, urine deodorant, a hammer, wooden stakes, bolt cutters, a borrowed saw and, well. sure, duct tape. Sounds more like a props list for a horror movie, doesn't it?
Organizing an event for people in a parking lot turned out to be much more adventurous than I ever imagined. My job as I see it is to make sure that artists can settle down and meet you as easily and without conflict as possible. So I don't mind going out of my comfort zone for that. Plus I can wear really cool safety glasses.
There are nearly 50 artists and creatives joining me on Saturday. Each has their own profile listed on the website for a preview of the art at firstsaturdayartsmarket.com.
Meet us in the now debris-free parking lot next to Adore Dentistry, 540 W. 19th St. this Saturday 11 am-6pm
Cohen is an artist and founder of the First Saturday Arts Market and the Market at Sawyer Yards. Find it on ArtValet.com for additional highlights and artist stories.
[ad_2]